Post by pinkgothic on Apr 14, 2018 23:04:43 GMT
It turns out I have no idea what the collective noun for 'raptors is, but I don't mind inventing one that both captures my joy as well as works as a bit of a pun...!
At any rate, getting my Wave 1 shipment was a bit of an adventure. For those who don't keep track of the comments stream on the Kickstarter itself, here are some quotes:
8th of April
:
Unfortunately, I have no idea what's going on with my wave 1 shipment. According to parcel tracking, German customs have it, but they allegedly only store parcels for about 14 days, and it's been a week and a half, and by rights I should have gotten a notification in my mail about this. I'm investigating tomorrow, but in case this doesn't resolve in time, there's a chance you might get my wave 1 shipment returned to you. I'm not sure what I can do to prevent this, but if it happens, know that I'd be happy to pay you shipment again so you can send it a second time (hopefully this time without that the notification I should have long since gotten from customs disappears in the aether).
Just to be clear, I don't expect you to do anything, just wanted to keep you in the loop (and perhaps make people in similar situations check their parcel tracking links for similar problems).

10th of April
:
Update: I managed to rescue my package from customs!
The first problem was that I hadn't gotten a notification (bar the information readily available through the tracking link, which inspired my directed investigations), meaning I did not have the customs-specific tracking number. A phone call yesterday morning solved that (fairly quickly, actually!).
The second problem was one I don't actually understand and won't ever find out the answer to, due to the workflow at customs not letting me get back to talking to the guy that made the assessment after I'd noticed something: As far as I can tell, you appear to have correctly put information on the outside of the box as to what the value of the contents are, but for some reason they wanted the data from me.
Of course, I don't actually have an invoice specifically for the contents of the wave 1 package, I paid for wave 1 and wave 2 together. Thankfully, I'd prepared a combination of the BackerKit information and the shipment notice, which they accepted as an ersatz-invoice. Of course, this included shipping, but you take what you get.
(Cost me ~120 EURs, plus ~30 EURs taking a taxi cab back home. Whoo! Probably gave them 20 EURs too much due to all that shipping.)
Sadly almost all of the contents is dirtied and scratched up in some way, so I'm not going to be able to display the boxes themselves - fortunately that wasn't my plan A, so I'm only slightly sad about this. But maybe I can salvage some of the beautiful boxes anyway.

I'll be inspecting the integrity of the stuff *in* the boxes over the course of the week, but they looked all right - some of the 'raptor figures had their arms slid back and smooshed together by the elbows instead of comfortably slotted into where they ought to be, but I don't think this is likely to be a problem, as the arms do still seem to be attached.
Excited to finally have some of these! At first glance they look *awesome*!
In a highly ironic twist, I actually came back from customs and found that the notification had been delivered to my snailmail inbox that day, claiming to be from the 28th of March. Can't make this stuff up!
Regardless, I am finally in possession of some swag 'raptors! ...I may not have a proper place for them yet, so it appears that for now they get to huddle together for warmth!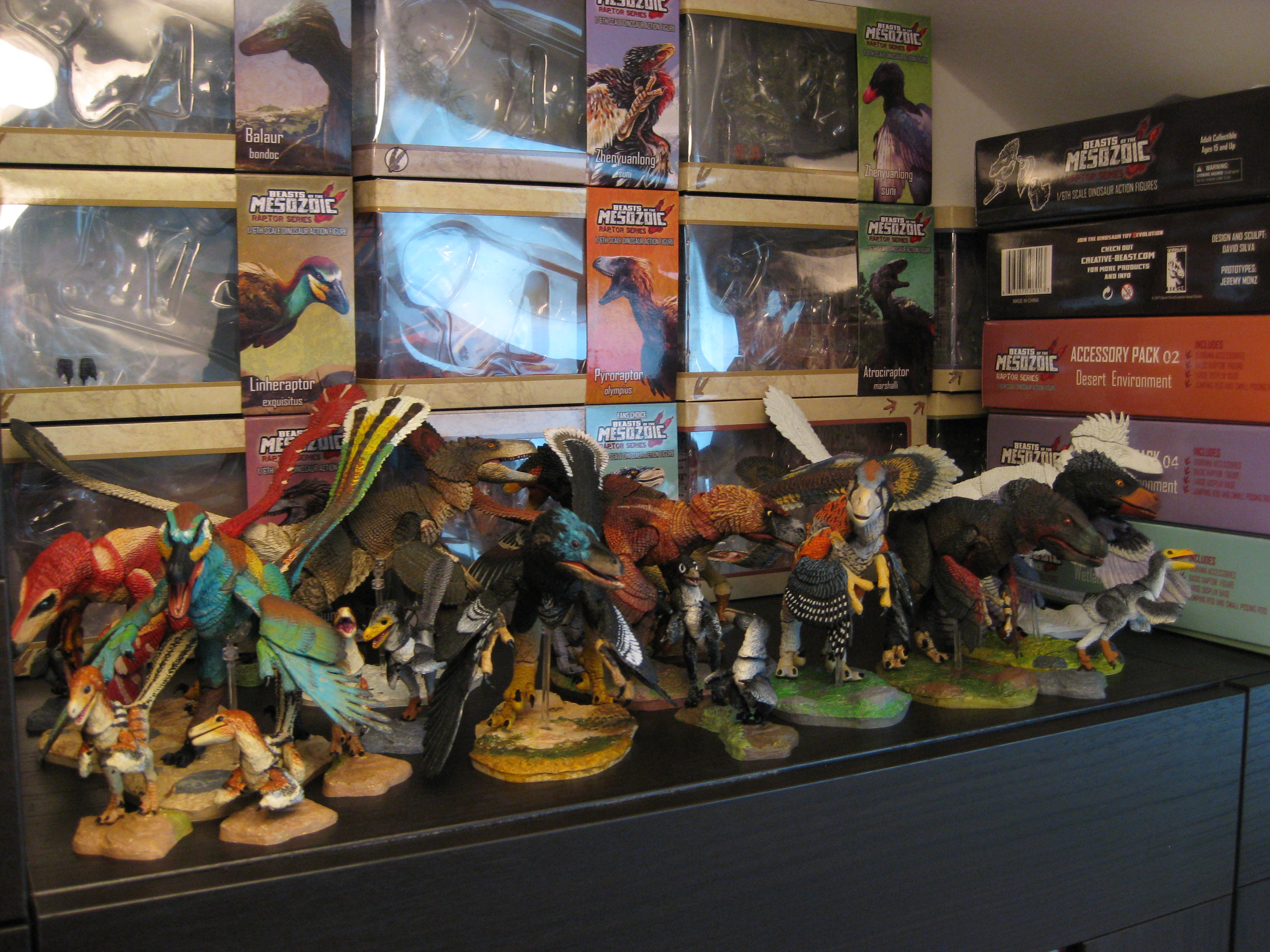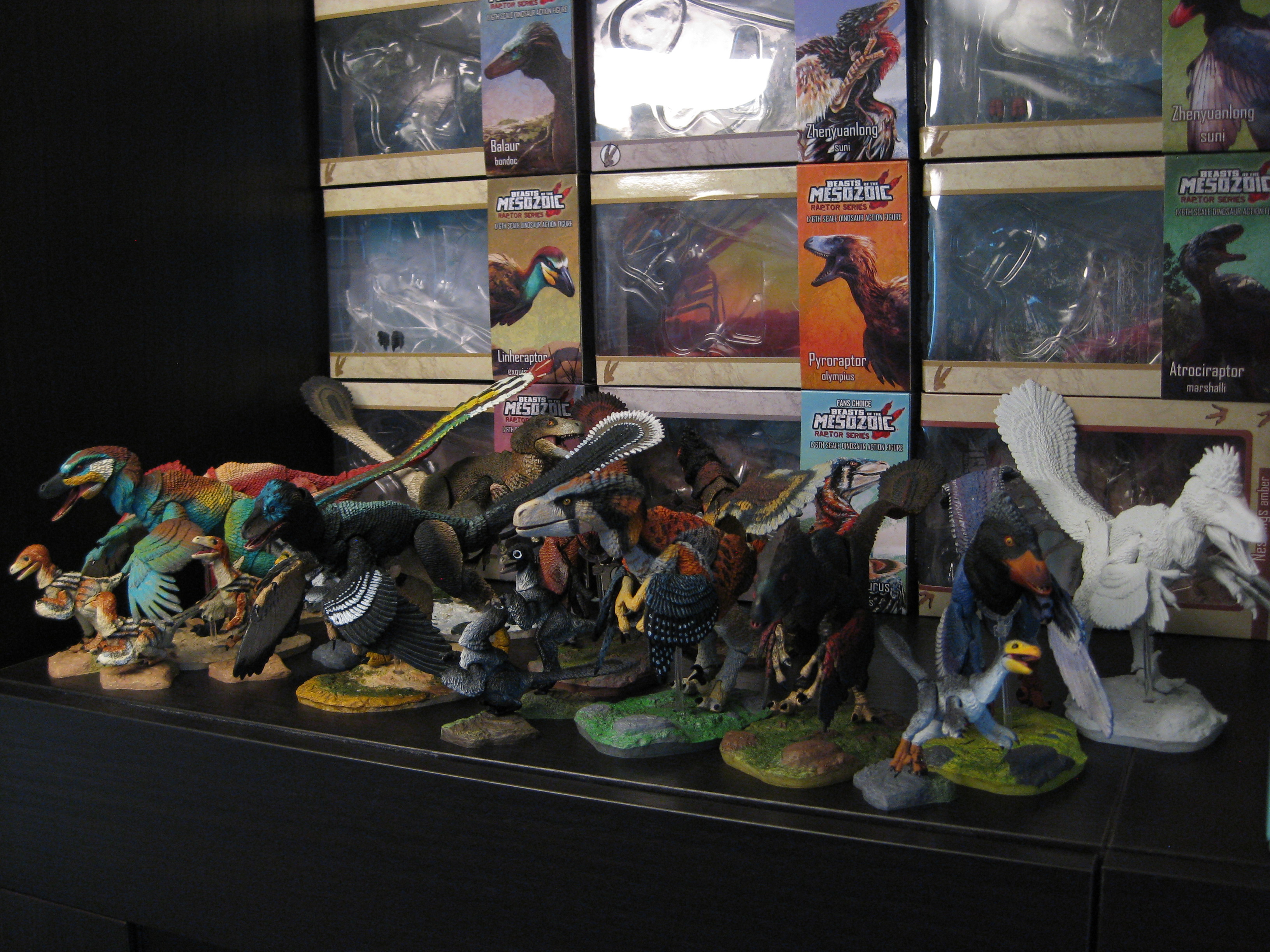 From left to right in the second picture, skipping miscellaneous hatchlings:
Linheraptor (front)

Velociraptor osmolskae, red (back)

Balaur (front)

Dromaeosaurus, regular (back)
Pyroraptor, regular (back, barely visible - see first picture to see it)
Dromaeosaurus, fan's choice (front)
Zhenyuanlong, fan's choice (back, barely visible - not much better visible in first picture, but at least easier to spot XD)
Atrociraptor
Zhenyuanlong, regular
Saurorniyuanlong pinkgoti, patiently waiting for a paint job...
Not visible in those photos since I hadn't unpacked them at the time, but also arrived and now scattered through my apartment:
All four accessory packs (microraptor has a delightful iridescence!)
Fan's choice Pyroraptor (currently re-boxed so I can take it with me to when I next visit my mum, so she can unpack it and experience the joy of putting it together herself )
and another build-a-raptor that has no tongue-in-cheek name just yet!
I also have a Velociraptor mongoliensis, but he is a bit pouty: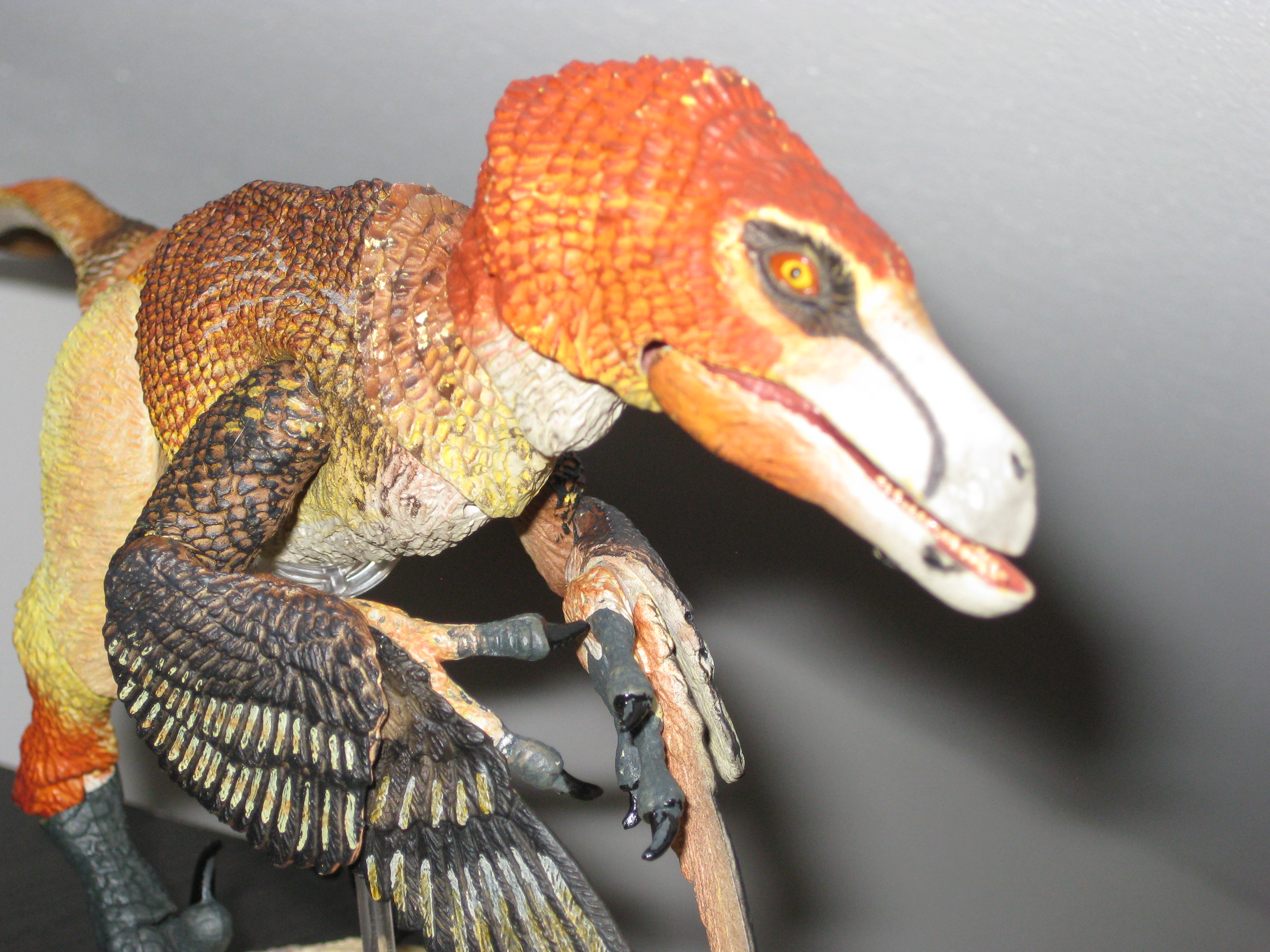 I hope to get a replacement jaw for this guy so he can stop looking quite so displeased!
Meanwhile, some close-ups: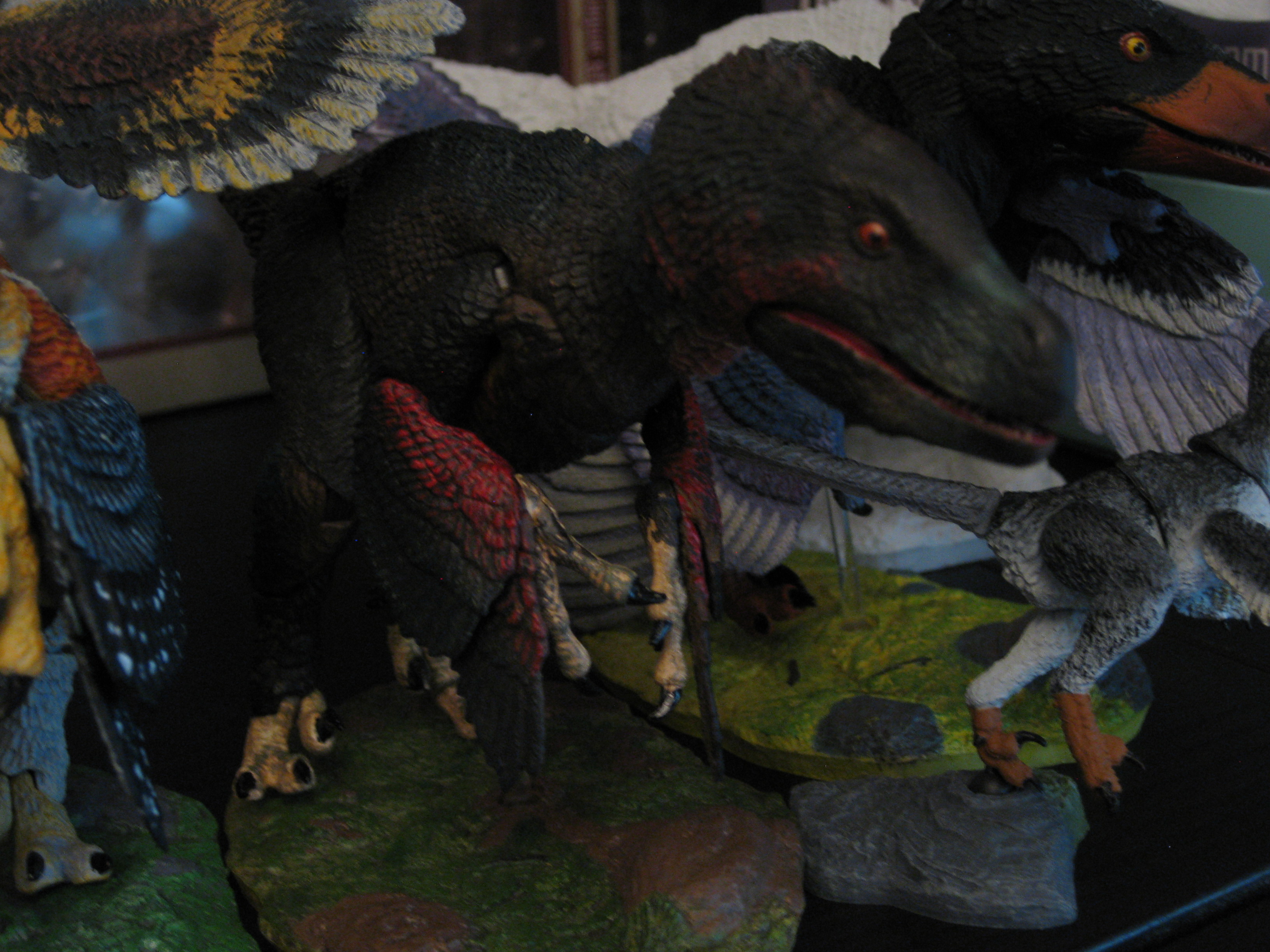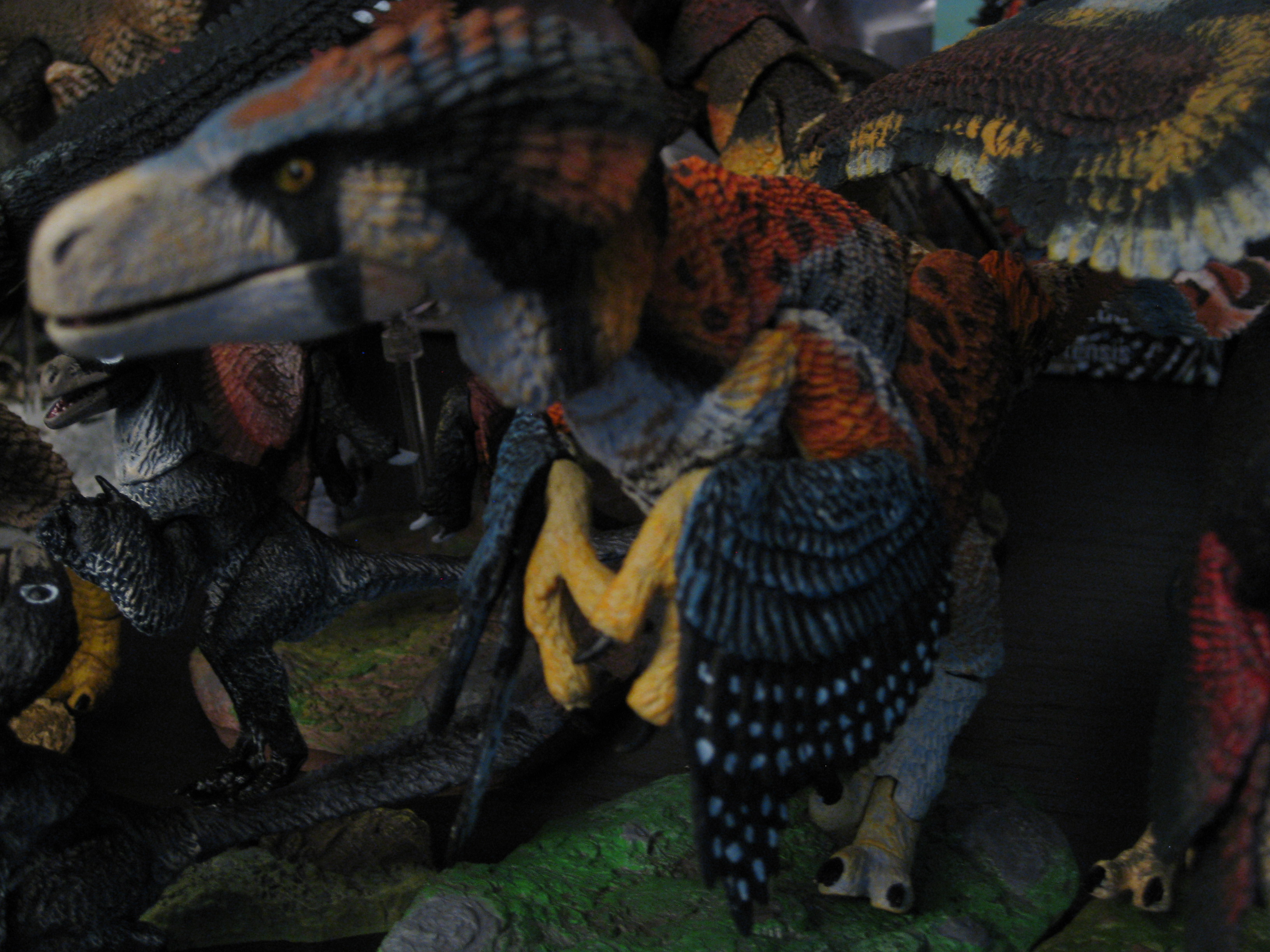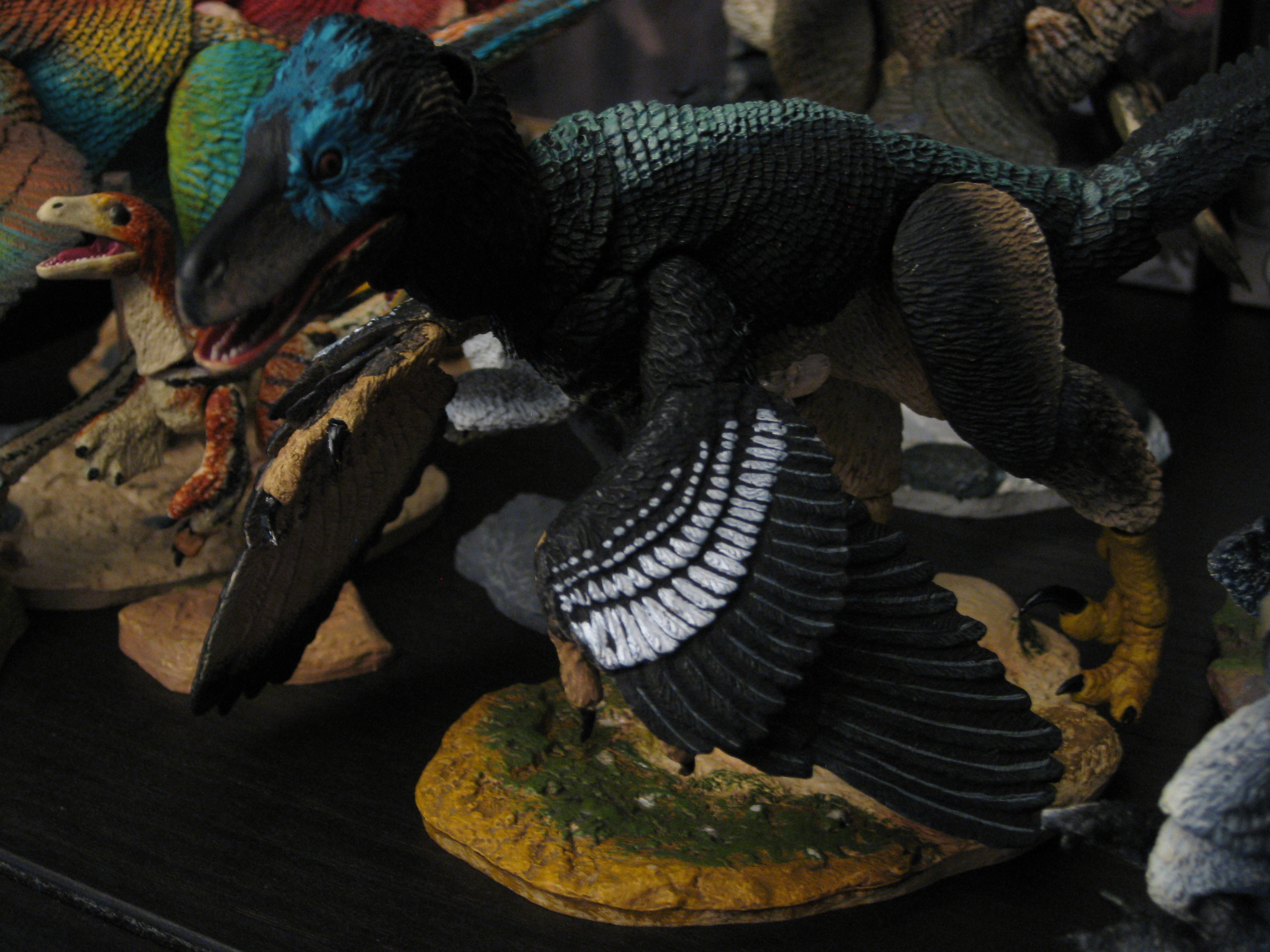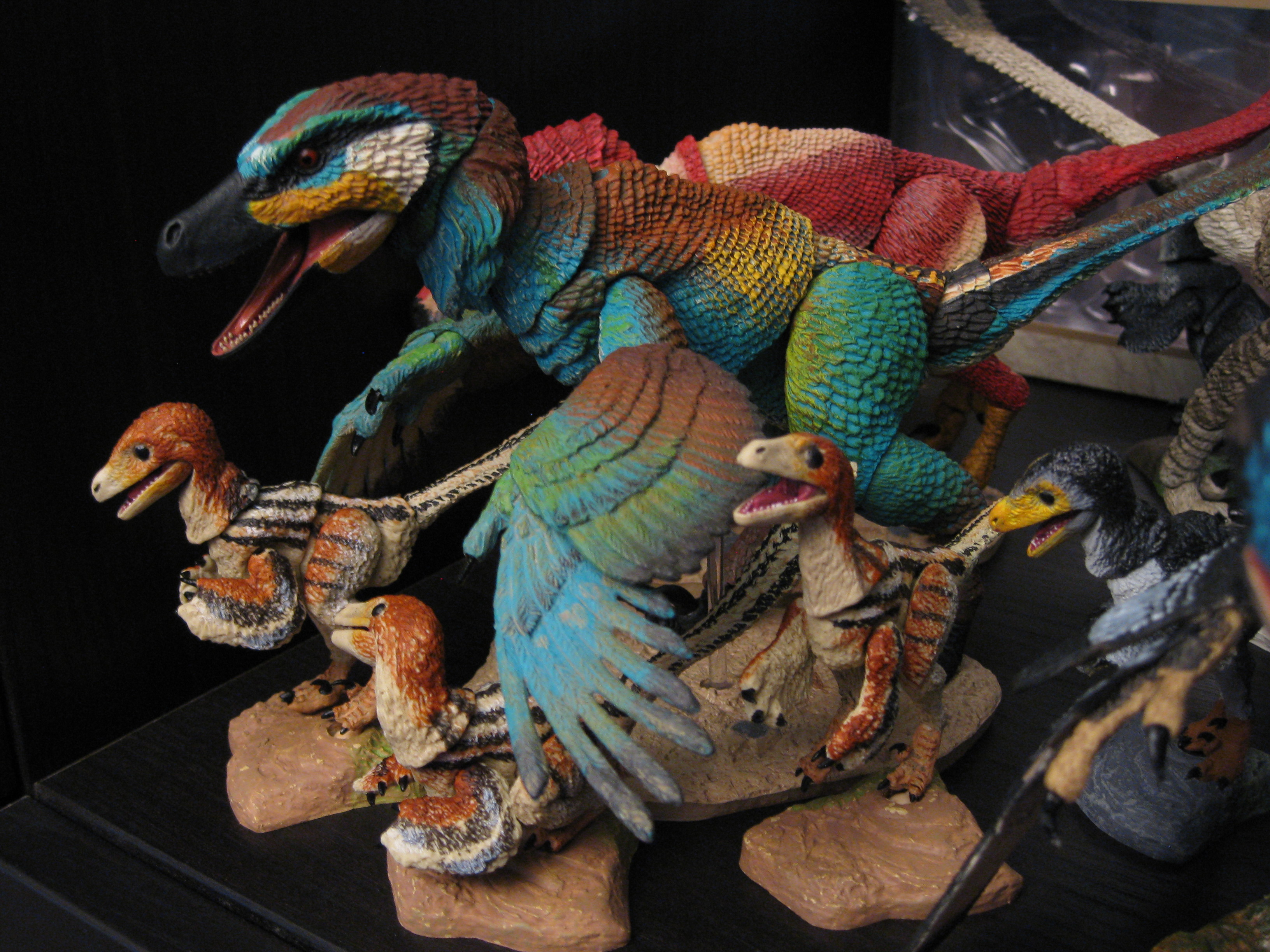 It'll probably be quite a few months before I have a good place to put these lovelies, but once I do, I'll absolutely make prettier photos of them, as well.

With some creativity, too, hopefully! (At the moment these were really just set up for the sake of reviewing the contents of the shipment.)